My new modded GameBoy came in the mail yesterday, woo!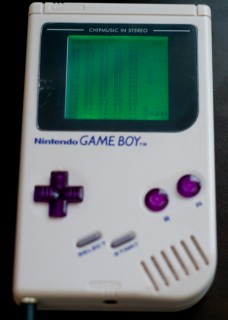 What makes it different? It has a Pro-Sound mod, green backlit inverted LED display, new faceplate, and purple buttons. I wanted to do the mods myself and all but the backlight are rather easy to do. I opted to use Thursday Customs and was not disappointed. I went this route because I wanted to spend more of my free time working on our latest album for Victim Cache.
I have already re-recorded some tracks for some up and coming songs and it does, indeed, sound much much better with the Pro-Sound mod, which basically just bypassed the volume pot and everything thereafter (speaker and headphones) to produce a cleaner sound better suited for recording. The backlight also looks awesome although the inverted colors makes games harder to play than I thought. The inversion increases contrast and can be correct by way of a biverted mod (basically adding a hex-inverter) but I opted not to do that since you have to cut tracks on the original GameBoy mainboard.
All in all I'm very happy. Thursday Customs did a great job and I would recommend them if you're in need of a sick, modded, GameBoy of your own!