Today, John and I took some time away from writing songs for our next album to check out the dub-plate we had cut for our eventual pursuit of getting Chipsurf Pipeline on vinyl. The dub was cut at Aardvark Record Mastering who did a great job, were patient with us, and were super helpful as well! I had received the dub last week, much earlier than we thought, but had been waiting to spin it until today so John could check it out.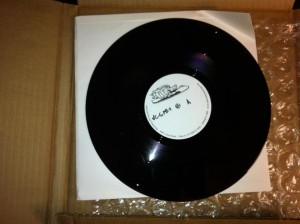 So how does it sound? Really good! Even John was impressed by it. We cut the same song (The Genesis Machine) on both sides – One side was cut like a 7″ single, and the other more like an LP. The single side, being a bit louder and running at 45RPM, had a good amount of clarity. The highs were not quite as defined as on the digital master it was cut from. How much of that is my setup and how much the medium is hard to say. Still, it sounded quite good. The bass was surprisingly punchy as well. The LP side, which spun at 33 1/3 RPM was surprisingly smooth. Smoother even that the 45RPM side, although it did lack further clarity on the highs and the bassbombs didn't dig near as deep. The two sides were much closer in sonic quality than I thought they would be.
We are quite happy with it, all in all. Something magic about hearing music you created coming off a record. It was almost surreal. Big thanks to Aardvark Mastering, and Louis, for getting it out to us so soon! You can be we'll be using them if we can get the funded to do a real record pressing. On that note, we will likely be putting the dub-plate up as a goodie to get for Kickstarter. We are not sure how to give it away, but I suspect since we only have one, it will go to the person who gave us the largest single contribution.
All that said, if you want to check it out, we recorded the festivities and threw it up on the YouTubes!